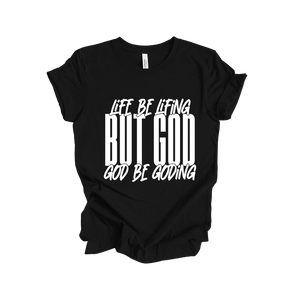 Our "Life Be Lifing, BUT GOD, God Be Goding" t-shirt is a powerful expression of faith and inspiration, designed to uplift your spirit because....LIFE BE LIFING BUT GOD BE GODING!!

Product Features:

**Premium Quality:** Crafted from soft, breathable, and durable fabric, our t-shirts are designed for both comfort and style. You'll love the way they feel against your skin.

**Inspirational Message:** This shirt carries a profound message that reminds us of the transformative power of God's presence in our lives. It encourages us to acknowledge life's challenges ("Life Be Lifing"), but always remember that with God, all things are possible ("BUT GOD"), and His divine plan is continuously unfolding ("God Be Goding").

**Versatile Fashion:** Our t-shirts are versatile and suitable for various occasions. Whether you're wearing it to church, a casual outing, or simply as part of your everyday attire, this shirt will make a statement of faith and positivity.

**Perfect Gift:** Looking for a meaningful gift for a loved one? Our Christian Inspirational T-Shirts make thoughtful and heartfelt gifts for birthdays, holidays, or just to remind someone of God's unending love and grace.